HP MJF printing in design products and arts and crafts
Additive technology is revolutionizing design, wearable art and fashion, enabling the creation of limitless visions through a flexible and efficient process. Among those using the technology are Michael Eden, Sarah Ceravolo and Amy Karle, who illustrate the diversity of its use. The first, Michael Eden, has created a collection of sculptures characterized by an enormous amount of detail, the reproduction of which was made possible through the use of HP MJF technology. The next, Sarah Ceravolo, is an artist creating collections of bold jewelry made from PA12 using the same technology, which she believes enables the rapid, intricate and high-quality production of groundbreaking artistic works. The third person mentioned earlier is Amy Karle, who experiments with designs that combine digital, physical and biological aspects. She created an artwork showing how the vascular system of the heart could look and function with an improved design. This artist is considered one of the most influential women of 3D printing.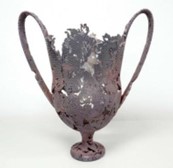 Sculpture designed by Michael Eden
Industrial craftsmanship with MJF from HP
Today's additive technology makes it possible to create architectural mock-ups or artistic designs quickly and effortlessly. This tool is becoming crucial in creating unique pieces, especially in the apparel and decorating industries. Belgian company ED LIGHTING is a prime example of how 3D printing is revolutionizing design. Their collection of lamps, created using HP Multi Jet Fusion technology, is a combination of modernity and industrial craftsmanship. With this technology, designers can achieve three-dimensional models with incredible precision, at minimal cost and production time. Similarly, Freshfiber, a Dutch brand, combines design with 3D printing to create functional and attractive products, including modern lamps, phone covers or watch straps. HP Multi Jet Fusion technology allows for the development of innovative designs, streamlining the design, prototyping and production process.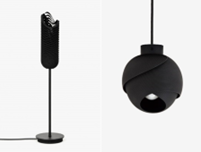 Freshfiber lamps made with HP MJF technology
HP MJF printed furniture
The impact of 3D printing on the furniture industry is becoming increasingly apparent. IKEA has unveiled its first "Flamträd" collection, consisting mainly of 3D printed decorative objects. Through incremental manufacturing, it is possible to create furniture with more sustainable, intelligent, durable, comfortable and lightweight properties. OECHSLER has created a collection of printed armchairs and chairs. The additive manufacturing solution resulted in a more efficient production process, as well as providing users with greater comfort and better quality products. The designers' main goal was to use as few materials as possible, improve functionality and reduce the number of furniture parts as much as possible. With additive manufacturing, a seat can be produced by eliminating springs, foam layers and upholstery without sacrificing comfort. In their place, lattice structures – so-called lattice structures – are used. The stiffness is designed by combinations of mesh size, thickness and shape, so that each seat zone can be freely designed. Such a solution provides comfort, ergonomics and cushioning at a high level, and on top of that it is easy to disassemble and lightweight, which makes its transportation hassle-free.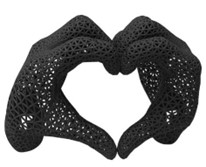 Decoration from the Flamträd collection
Małgorzata Kubiś